Children´s Playgrounds
Safety paving is a flexible and permeable paving of two layers. The lower layer is a granulated cork base and the upper layer is coloured grain.

Safety paving adapts to any space and is recommended mainly for children's playgrounds, sports areas, nursing homes and physiotherapy centres. Its purpose is to minimize falls and blows through its high level of elasticity, cushioning and impact absorption and offers complete safety in a continuous space without dangers.

Its installation is seamless without joints and its application is done manually "in-situ". It is installed on asphalt or concrete surfaces and its thickness varies between 20 mm and 140 mm. There is also the possibility to personalise the design. Amongst its many qualities, what makes it unique, are the facts that it is easily repairable, highly weather resistant, flexible, non-slip, imputrescible, seamless, easy to clean and above all its capacity to cushion impacts.
QUALITIES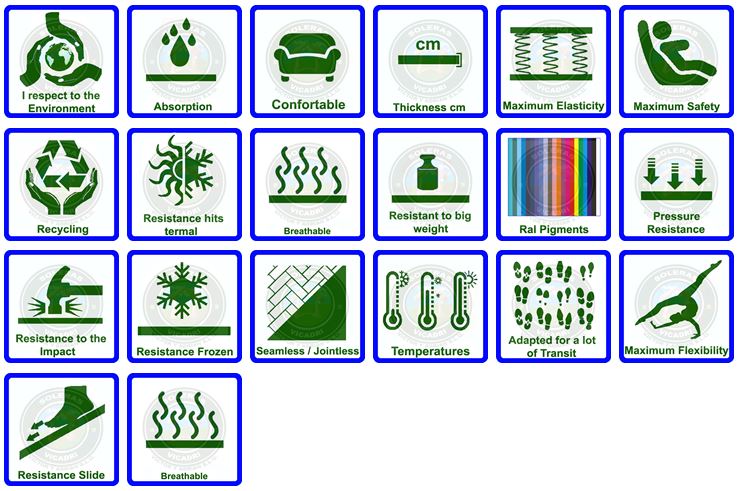 The European Normative (UNE-EN 1176 and 1177) establishes a long list of safety measures to avoid accidents in children's playgrounds. These norms encompass the requirements that the different elements (swings, slides, seesaws) must comply with, the materials to be used, the dimensions of the openings and free space to avoid containment, safety distances and heights, it also mentions the thickness of the paving used in children's parks, installation requirements, distances between obstacles and post installation maintenance of the park

BASE:
Continuous safety paving is made of a resin and recycled material mortar layer using different thicknesses depending on the playground obstacle and a top layer made of specific and colour vulcanised resin mortar. This system offers a clean, safe and novel solution for the creation of children's areas
Coloured surface:
Our safety paving is made of a primary layer of resin and recycled material mortar and a second finishing layer of resin, which is coloured "in-situ".
There are differences to be taken into account, due to the use of standard dyes to colour the resin, on mixing the grains of cork to obtain a uniform colour and using it as the top layer, there tends to be more wear and loss of colour from use.