AGRI-FOOD INDUSTRIAL PAVING
Agri-food industrial paving has to be very robust. It has to be adequate for direct contact with food or in close proximity with food without having any effect on it. It also has to be able to resist the exhaustive and intense cleaning regimes in the sector and hence be resistant to the frequent use of aggressive chemical products used.

The systems proposed comply with the requirements of industrial paving in the agri-food industry and posses the certification for contact with food, which comprise: Hygiene, resistance to large temperature changes, slip-resistance, liquid permeability, chemical and mechanical resistance, ease of cleaning, odourless and free of VOCs.
Main Characteristics

Hygiene and Safety
The paving should not contaminate the food products nor affect their smell or taste; they are dense and impermeable and should dry completely in a short space of time. As a result germs, mold and bacteria cannot take hold.
Temperature Resistance
This surfacing system will not be negatively affected by thermal exposure to ice, steam cleaning or freezing by compressed air. The industrial paving is available in various different specifications depending on thickness, from 4mm to 12mm with adequate specifications for extreme conditions and can support spillages of extreme temperatures from +150ºC to -40ºC.
40ºC
Slip-resistance
In the agri-food sector the majority of environments are normally humid. The industrial paving offers a wide range of surfaces. A lot of different finishes can be attained.
Liquid Permeability
It provides an impermeable seal and protects the concrete base and the groundwater from spillages of liquids and environmental pollution.
Chemical Resistance
Our industrial paving provides excellent resistance to a wide range of chemical products and aggressive substances, including a lot of organic acids and solvents that rapidly degrade other types of resin based and many polyurethane-cement based paving systems.
The most common are:
Acetic acid, 50%
Lactic acid, 30% at 60ºC
Oleic acid, 100% at 60ºC
Citric acid, 50%
Sodium hydroxide, 50% a 60ºC
Impact Resistance
Impact resistance is related with the specific conditions of each case. This should be taken into account with food stored in elevation.
Mechanical Resistance
The mechanical resistance is defined depending on the type and frequency of use of the paving (transport of loads, type of wheels, contact area).
Clean, Sterile, Safe
In the agri-food industry cleanliness and maintenance are vital, our paving systems are dense and impermeable throughout their thickness, they are essentially inert, they are not biodegradable and they do not promote the growth of bacteria or mold. As a result of theses properties they are used extensively in the food and pharmaceutical industries where the highest standards of hygiene are needed.
Durability
The durability is the result of a combination of factors. It is attained by the combination of high levels of resistance with ductility, mechanical and chemical resistance of the paving.
VICARDRI applies an extensive range of products for paving in the agri-food industry, which are resistant systems for whatever their use may be:
Refrigeration chambers: chambers for the conservation of refrigerated or frozen products.
Winegrowing sector: Food Industry: Ready-cooked, prepared meals and catering. Manufacturing: Fruits, vegetables and other products.
Baking industry: Bakers of bread, pastry, chocolates and confection, flourmills, tobacco companies, coffee companies, sugar companies.
Dry zones: storerooms, goods and food deposits, loading and unloading areas and ramps.
Wet zones: drinks factories, bottling plants, milk factories, industrial slaughterhouses, meat industry, fisheries and the fish industry, dairy industry.
Industrial premises: used for the storage and/or logistics of elaborated food products (including fruit and vegetables).
WHERE THEY ARE APPLIED

QUALITIES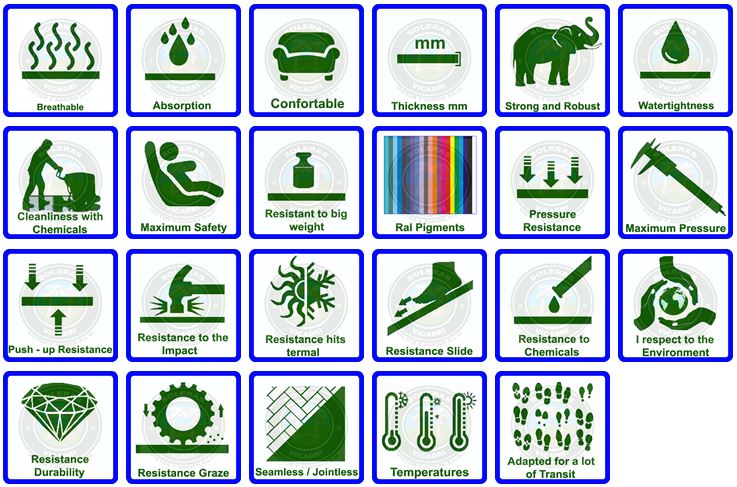 CHARACTERISTICS

Certification and Normatives
Obviously a paving system should prevent the penetration or migration of any substance dangerous to health from the paving to the foodstuff or environment. Our systems have the corresponding suitability certification for the agri-food industry.